Integrating is fairly simple. Just go to "configuration" and then in "HTML code" part you will see the following options
On a mouse click show the page widget
Hide status when offline
Language options
Position option
Automatically check for messages from the operator/invitation messages
Disable pro active invitations, useful if you want disable them on your site.
Show a leave a message form when there are no online operators
Department
"On a mouse click show the page widget"
By default when user clicks live chat link the Page Widget Opens. The User (visitor) can chat in this Page Widget. The Page Widget remains opened until the User (visitor) closes it or opens the Widget in a new window (popup). To open in a new window, the User clicks the icon beside the Close Page Widget icon.
You can test widget on our demo page.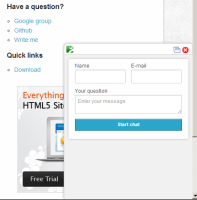 "Hide status then offline"
Let say you do not want to show Live Chat/Help link or Status Widget at the bottom of your screen. So you can check this.
"Department"
For which department this code should be rendered. Choose "Any" for all departments, or choose the specific department for this code.
"Language options"
Choose a language. Depending on combobox value javascript code below, it will be rendered in that language. If you have more than one language, then choose the language and you will get the code for that language. Once this code is embedded into your website and depending on the language chosen, the User/Visitor Widget interfaces will be in that language.
"Automatically check for messages from the operator/invitation messages"
If this checkbox is checked, the User (Visitor) does not have to make a page refresh to initiate the Invitation Logic (check for messages from operator/or check for the Proactive Chat Invitation message). Please note that checking this checkbox activates messages checking for Users (Visitors) every 15 seconds and it increases server load.
If you have the Proactive Invitation popup when Users (Visitors) spends 20 seconds on the site, you will not have to refresh the "Online Visitors" page to check this.
If it is enough if the Invitation Logic runs whenever Users (Visitors) makes a pageview, do not check this checkbox.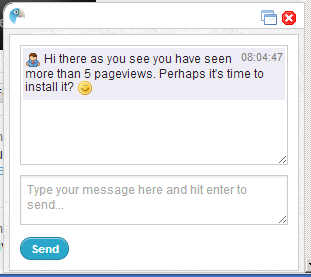 Disable pro active invitations, usefull if you want disable them from site part.
This disables the Proactive Invitations. This is useful if you want to disable them on your site.
Note: This disables online visitors tracking even if it's turned on in your back office (Administrator section of your site). It is recommended to not touch this field unless you know what you are doing :)
Position options
This is a new feature. This is the position where the Status Widget is published on your website. These are your options.
Native placement
Bottom right corner
Bottom left
Middle right
Middle left
The main difference is that if you choose the Native Placement you have to place the HTML tag where you want the Status Widget to appear on your website. If you choose the Bottom Right Corner you won't have to do anything just paste javascript in page header, or at the page footer. Javascript is loaded asynchronous so it does not block the User (Visitor) interface.

The HTML code will be generated automatically as you change the configurations on this page. You can then embed it into your site. You will be able to see how it would look like and function on your site.