Canned messages purpose is to provide prepared answers for standard questions. Canned messages can be found at
System configuration -> Canned messages
Also in admin windows you will see combobox with defined values. Also you can disabled canned messages adminsitrator by removing permissions access.
Also it's possible for operators to have personal canned messages, to them have to be assigned this permission. (Since 1.91v)
lhuser -> personalcannedmsg
Canned messages also supports these template variables. (Since 1.91v)
​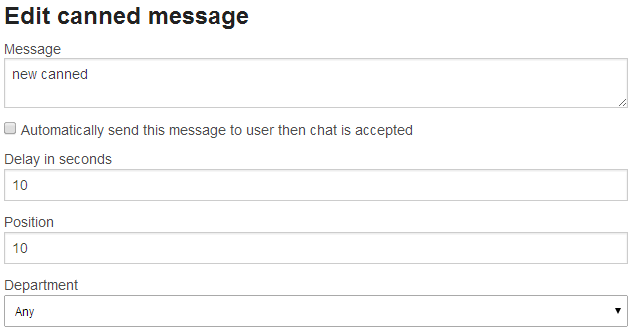 Message - defined message.

Automatically send this message to user then chat is accepted - this message is send to user then operator accepts a chat. If there is few messages the very first one is send. This feature works only for web client.
Delay in seconds - this delay gives few time between users sees Operator is typing and message appearance in user chat.
Position - order position from lowest to highest. Canned message with lower value always has a priority.
Department, to what department message is visible.
Support project
Developing application takes a lot of time. You can support application by donating. There is no company behind this application and it takes away my free time. Every donation matters and does not matter how small it is!