Live helper now also supports geo detection, it can detect user location based on three options.
Apache mod_geoip2 module, this will also work with nginx etc.
Using free http://freegeoip.net/static/index.html service
Using also free http://www.locatorhq.com/ip-to-location-api/index.php service
If your server supports internal mod_geoip2 i suggest use it. It will provide best performance.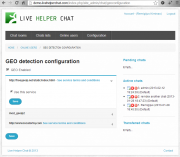 Geo detection is done on these parts:
Online users
Chats, then site user starts chat
Support project
Developing application takes a lot of time. You can support application by donating. There is no company behind this application and it takes away my free time. Every donation matters and does not matter how small it is!