Requirements
Chrome browser
At least 1.73 version
Read more for install instructions
Tutorial
Two install ways

A (recommended way)

Navigate to and just install extension https://chrome.google.com/webstore/detail/live-helper-chat/knooimelchgpbpblfhlgkdifnabcolin

B (advanced method)

Download extension from https://github.com/remdex/livehelperchat-extensions/raw/master/browsers-extensions/chrome/lhc/lhc_packed/lhc.crx
After download open in chrome chrome://extensions/
Drop downloaded file there
Agree to install a extension

After install should appear blue Live Helper Chat icon.
Click right mouse button on icon and choose options
Enter url address where live helper chat is installed without trailing slash. E.g (make sure you use your address)

If LHC is installed in subdirectory path should look like http://example.com/lhc_web
if LHC is installed as subdomain just enter http://livehelp.example.com

Click save
After clicking save icon should change to P, now just click an icon and login. If you do not wish to login each time you run computer. Just check a checkbox remember me.
Also to see chrome notifications you can in your application grant permision to show notifications example url in http://demo.livehelperchat.com/site_admin/chat/listchatconfig
Icons meanings
F - extensions is not configure, click right mouse button and choose options
P - extension is not logged to Live Helper chat, click popup and login
no text - extension is logged and there are no pending chats
number - shows number of pending chats
I want to modify chrome extension where can i find source code?
https://github.com/remdex/livehelperchat-extensions
Few screenshots
Let me know if I missed anything. Few screenshots for teaser
View for popup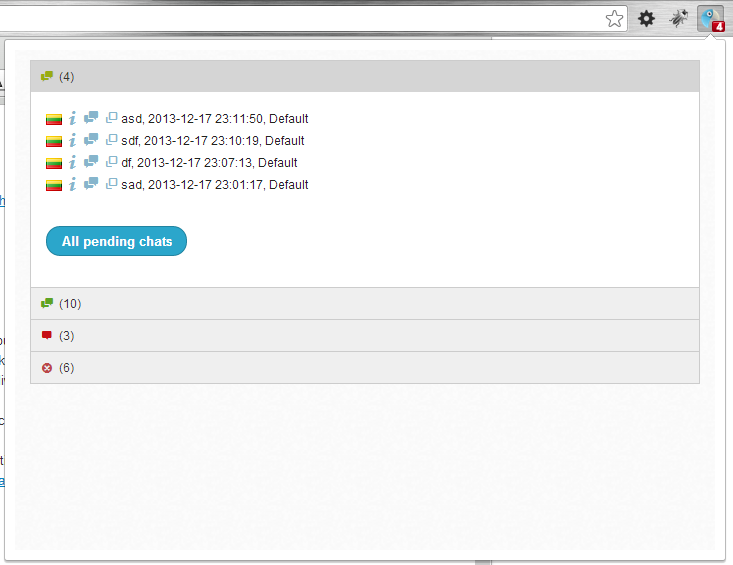 Video tutorial
Support project
Developing application takes a lot of time. You can support application by donating. There is no company behind this application and it takes away my free time. Every donation matters and does not matter how small it is!