General things you can do
Make sure that you see embeded code in the site. If you embed code in template where some template engine is used like smarty. You have to escape code E.g
{literal}Your embed code herer{/literal}
Chrome specific instructions
If you see that embed code is inserted and formated properly, but still do not see widget. Do the following actions
Press CTRL+SHIFT+J
Click on "Console" tab in opened panel. Make sure there is no errors related to Live Helper Chat
Now click on network tab and search for "chat/getstatus" request. It should have returned 200 ok. I have attatched how it should look like.

Firefox specific instructions
You will need firefox firebug extension
Click firebug icon and make sure that console does not contain any error related to live helper chat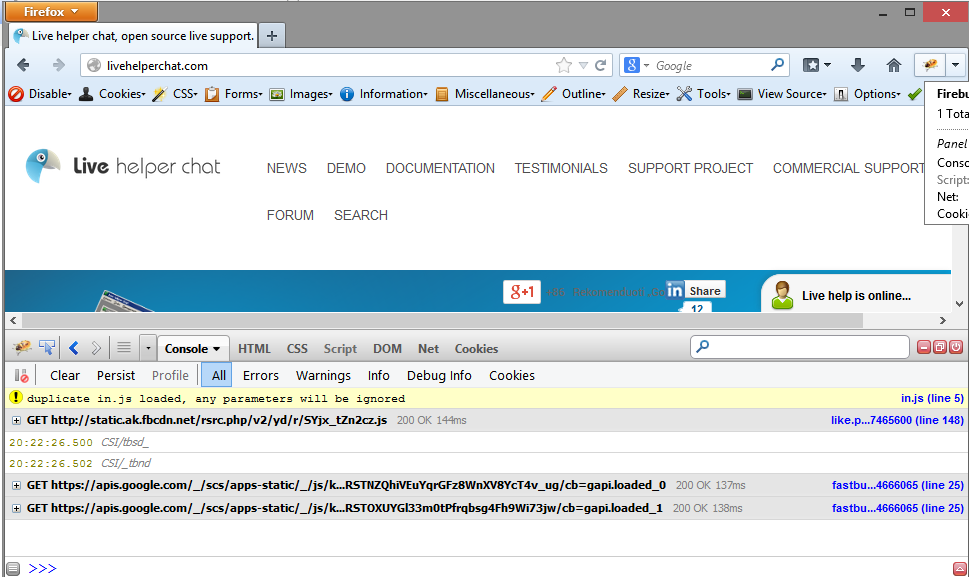 Now you can click Net tab and make sure there is no errors in javascript loading, like should write 200 ok

​
So these instructions should help you to debug your site issue. Also you may refer to this article if you get white screen
Support project
Developing application takes a lot of time. You can support application by donating. There is no company behind this application and it takes away my free time. Every donation matters and does not matter how small it is!